Number 11 is one big family and we'd love for you to become part of it. Whether it's working directly 1-on-1 with our clients in crisis situations, cooking up some food in our Pay-As-You-Feel Café, running music or art workshops or simply being a listening ear – there's so many ways to get stuck in. Why not use what you have to make a difference?
Whether you are just able to give 3 hours here and there, or want to get fully stuck in and go for 2 days a week, we've got roles for you.
The rewards of becoming part of our team are many. We'll make sure you're well-trained and supported, and we'll provide opportunities to develop your skills and experience. You'll get to meet some amazing new faces and make an impact on the lives of people in our community.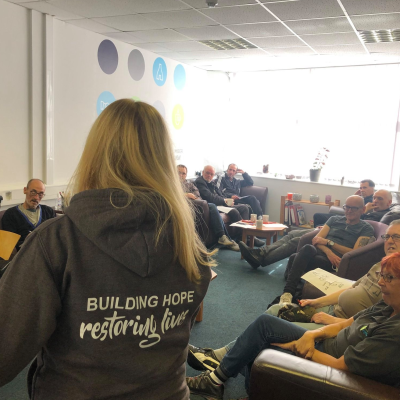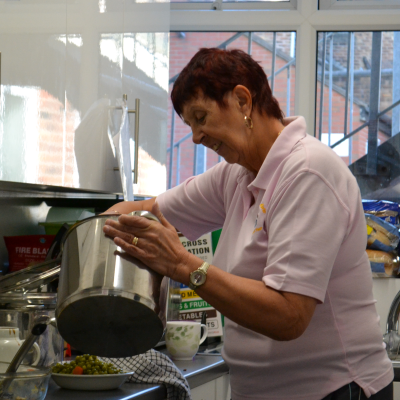 What's the process?
We strive to provide the highest possible service to our clients. As such we want to make sure we're a good fit for you and you're a good fit for us. Before any new volunteer starts we ask you to fill out an application form. After this you'll come and do a trial period of around 4 sessions or so.
If eveything goes smoothly and you'd still like to volunteer with us, we'll get you trained up for the role you'll be doing. If you're working with clients, you'll take part in our 'Level One Training'. This involves a basic introduction to some of the problems our clients experience and how we plan to support them, as well as covering key aspects of communication and listening skills, supporting behaviour change and other vital information like safeguarding. Once this is done and you're trained up then we're ready to go; you'll get a Number 11 top and you'll officially become part of the team.
Roles
There's so many ways to get involved at Number 11. Take a look at the descriptions below. If you want to help but you're not sure how, get in touch and we can have a conversation about how you can best stand with us.
Cafe Support
Do you have great cooking skills and want to help us provide our clients with healthy, nutritious meals? Whether it's taking the lead or just helping to prepare ingredients, there's many ways you could support us from the kitchen.
Running a Workshop
Is there a skill or talent that you could share with our clients? Whether it's something fun and creative to bond over, or practical to develop clients' employability skills – we're always looking to develop the variety of sessions on offer.
A Listening Ear
Being a part of the Number 11 family is all about being there for other people. It could be through playing a board game, making a cup of tea or having a good old chin wag – if you can provide care and support for our clients in the most simple of ways, get in touch. 
Interested?
Fill in our contact form and we will give you more information about opportunities to work with us, as well as answering any questions you have.